Terrafirma Defender Storage Solutions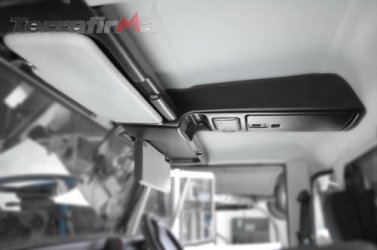 Terrafirma Defender Parcel Shelves
Maximising storage space in the cab of any Defender will increase comfort and convenience. The Terrafirma parcel shelves are ideal for stowing away maps, note books and pens. This storage facility runs the full width of the cab and includes the provision to add another interior light or relocate the original. The sun visors mount neatly into recesses moulded into the shelf. Compatible with Defender's with Sunroofs.
TFDPS : Terrafirma Defender Parcel Shelf
TFDPS2P : Terrafirma Defender Parcel Shelf (2 piece)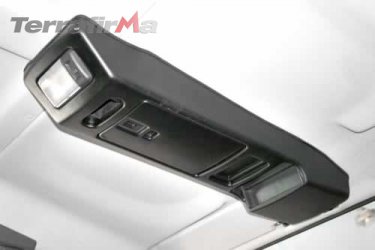 Terrafirma Defender Roof Consoles
Storage in the cabin area of a Defender is minimal with very few places ti put things. Any additional space that can be created is a real bonus especially if it doesn't cramp the driving space. The Terrafirma Roof Console for Land Rover Defender is the perfect solution for tucking away maps, pens and cigarettes. Even small binoculars and a folding saw can be stashed away in the reversible trap door storage tray. The Terrafirma Rood Console has provision for an additional or repositioned original interior light, space for power sockets and a single DIN radio aperture with removable panel which can either be used for additional storage, to house a CB or CD player or even for extra gauges.
TFDRC : Terrafirma Defender Roof Console (non truck cab)