Terrafirma Big Bore Shocks
Heavy trucks need heavy suspension, Terrafirma has developed the Big Bore Expedition shock specifically for fully laden Land Rovers such as overland and utility vehicles. The Big Bore Expedition shocks are designed to handle the battering experienced when travelling over rough terrain while providing stability and control with top heavy vehicles at both low and high speed.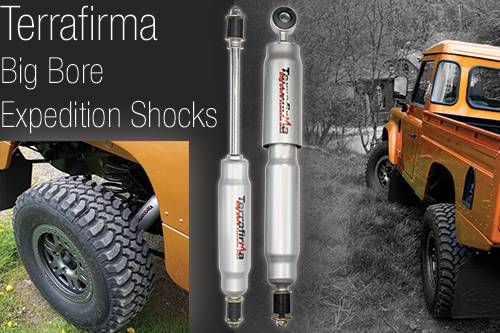 The Big Bore Expedition shock is built for strength and reliability. Everything about The Big Bore Expedition shock is massive with its 76mm diameter body, 50mm piston and of course Terrafirmas super strong 20mm double chromed shaft. The fully welded mounting points and the natural rubber bushes are the largest possible to fit Land Rovers original mounting points. To ensure the largest diameter shock body could be used the front shock absorber is built without a dust shield and they are available in standard travel and +2 inches (50mm) to suit the widest range of applications for this shock.
The massive 76mm shock body provides ample capacity for the high performance oil necessary to keep the internal workings cool while maintaining high damping performance even when combined with the high spring rates required to carry very heavy loads.
Coincidentally fitting the Big Bore Expedition shocks to a light or un-laden Land Rover gives a firm, sporty handling characteristic often sought after by the more performance orientated driver.
The following parts are in stock and available to buy: (click part number to view)
Fits 90/110/130/D1/RRC
Front - TF129
Rear - TF130
Front +2inches - TF123
Rear +2inches - TF124