ORE Heavy Duty Steering Guard Exclusive to John Craddock Ltd
We're excited to bring a new Land Rover protection product to you! The ORE Heavy Duty Steering Guard is developed, designed and made in the UK. Manufactured to high tolerances and exceptional standards of quality. You can take on the trails with confidence with ORE's Black Heavy Duty 6mm all steel construction steering guard. Suitable for the Defender, Range Rover Classic and Discovery 1 vehicles.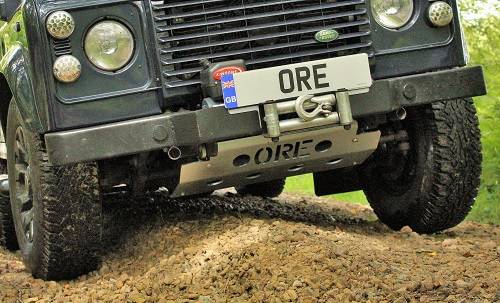 Super Tough High Quality Steering Guard
Designed and developed by Land Rover fans for Land Rover fans, the team at ORE like to spend time behind the wheel of their favourite 4x4 when they're not developing and making products. This first-hand experience means they know what off road drivers want from Land Rover protection and with this product they deliver one of the toughest components out there:
ORE's special multiple pre-treatment process is the same process as used for tank armour!
The powder coating process is unique to ORE and has been tested to withstand 1000hrs of salt spray under lab conditions. ORE coatings have special additives found in architectural building fabrics to stop fading by UV light.
If your steering guard takes an impact the coating will not peel off. Due to the multiple pre treatments and several coatings, the thickness of the coating is far greater than a standard coating. This makes the difference on products that have sharp or square edges which create corners as the coating is more likely to chip here, ORE's coating is much thicker and creates a smoother radius thus reducing this affect.
If you get a chip in the coating the pre treatments reduce the effect of bubbling and stop moisture migrating under the coating.
The ORE steering guard comes complete with an all stainless steel fixing to give you confidence it will stay where its supposed to - protecting the underside of your pride and joy!
ORE offer a 5 year warranty (subject to product specific terms)
Available to Buy Today from John Craddock Ltd
Buy the ORE Heavy Duty 6mm Steel Steering Guard online from John Craddock Ltd today. If you have any queries about this product or any other forms of land Rover protection, please contact us.