Already established as the premier expedition vehicle outfitter in Africa, Europe and Australia – Front Runner is a 13 year old South African based company founded by a team of engineers, designers, outdoor enthusiasts and professional off-road drivers. There isn't a country in Africa they haven't navigated through or camped in. Their combined years of experience in the bush — dreaming up, designing, building, and testing innovative products — is the reason Front Runner has quickly grown to become one of the top 4×4 accessory companies in all of Africa.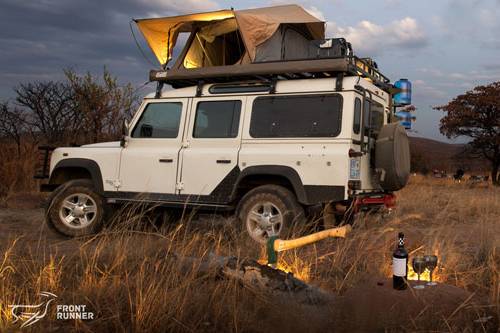 Renowned for their superior quality, intelligent design, and durability, Front Runner products are built for the tough and gruelling African bush. Their equipment is favored by the U.N., Safari operators, and the most serious expedition drivers. You may have even seen Front Runner roof racks and water tanks featured in the Ewan McGregor, Charlie Boorman documentary "The Long Way Down" about their overland journey from Scotland to South Africa.
By utilizing the very latest technology and materials, together with CAD (Computer Aided Design), in-house laser cutting, powder coating and bending, Front Runner has developed the most versatile and advanced range of 4×4 accessories. Front Runner has even earned the distinction of having many of their products recognized as official accessories by Land Rover.
Throughout Africa, Australia and Europe, casual campers to the most serious expedition leaders have trusted Front Runner roof racks and accessories.
To view all of the Front Runner range of accessories click here.
The Front Runner Land Rover range of accessories features Front Runner Roof Racks, Front Runner Wheel Carriers, Front Runner Roof Rack Accessories, Front Runner Expedition Utensils, Front Runner Ladders and more.