Global BF Goodrich 4x4 Tyre Suppliers
BF Goodrich 4x4 Tyres are famous around the world for the iconic lettering on the tyre wall. A global tyre brand with a long heritage of making high quality off road tyres. John Craddock Ltd has a comprehensive choice of BF Goodrich tyres to fit your Land Rover. Whether you drive a Defender or a Discovery, a Series or a Freelander, or any generation of Range Rover, we have the tyre solution for you to tackle all surfaces.
BF Goodrich 4x4 Tyre Stockists
Searching for and buying your BF Goodrich tyres is easy as we have a dedicated category within the John Craddock Ltd Tyre Finder online. Should you require an All Terrain tyre with the capabilities to provide a good ride quality while rolling on asphalt but can also provide the traction to tackle off road conditions, we can supply them. For specialist terrain, should you take part in trialling at weekends for example, you will find the perfect BF Goodrich Mud Terrain tyres. Designed with tread patterns to disperse mud and grip in boggy conditions. We will have you powering through all challenges and obstacles!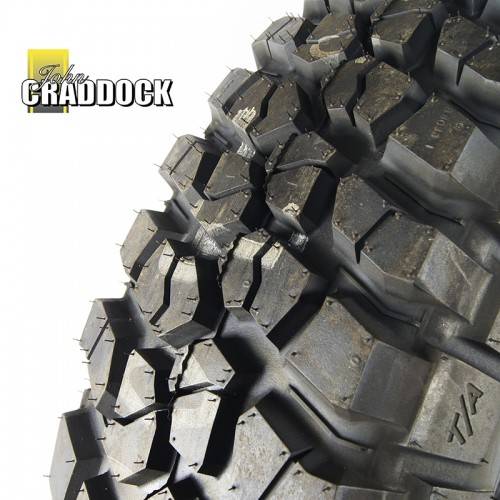 Find the Right BF Goodrich Tyres at John Craddock Ltd
Not sure which BF Goodrich 4x4 tyres are suitable for your driving requirements? John Craddock Ltd has been supplying tyres and Land Rover parts to owners and enthusiasts since 1970. Our team have an unrivalled knowledge and experience when it comes to Land Rovers. We can recommend the correct BF Goodrich tyres for your budget and terrain. To ask us about BF Goodrich tyres, please contact us today.