Latest EU and UK delivery lead-times and delivery status please
click here
John Craddock Ltd Magazine (General News)
After months and months of hard work and planning, we're thrilled to announce the launch of our brand new website! Although the site has a brand new look, you'll still find the same quality Land Rover parts, spares and accessories to keep your trusty Landy at the top of its game, whether you're restoring a classic Series model or updating your trusty Landy for some off road action!
What's New?
We really hope you like our new look which is designed to make it easier to find what you're looking for, whether you're shopping with us on a mobile or desktop! Now you can browse through vehicle categories and filter products by type, price and more. With over 100,000 parts ready to ship, we're proud to be the world's leading supplier of parts, spares and accessories for the Defender, Freelander, Range Rover, Discovery and Series vehicles – offering everything from under one roof!
Purchasing from abroad? We're pleased to say that we're now offering even better support for international shipping! Our checkout calculates delivery wherever possible for the items you have selected. If you have any questions, you can also contact our sales team directly for expert advice!
We also offer more ways to pay including Amazon Payments and Apple Pay in addition to PayPal and credit/ Debit card payments. Taking on board your feedback, we've tried to make purchasing your parts and accessories as easy and as smooth as possible so that you can get on with the important things in life, and by that we mean spending time working on your Landy and travelling!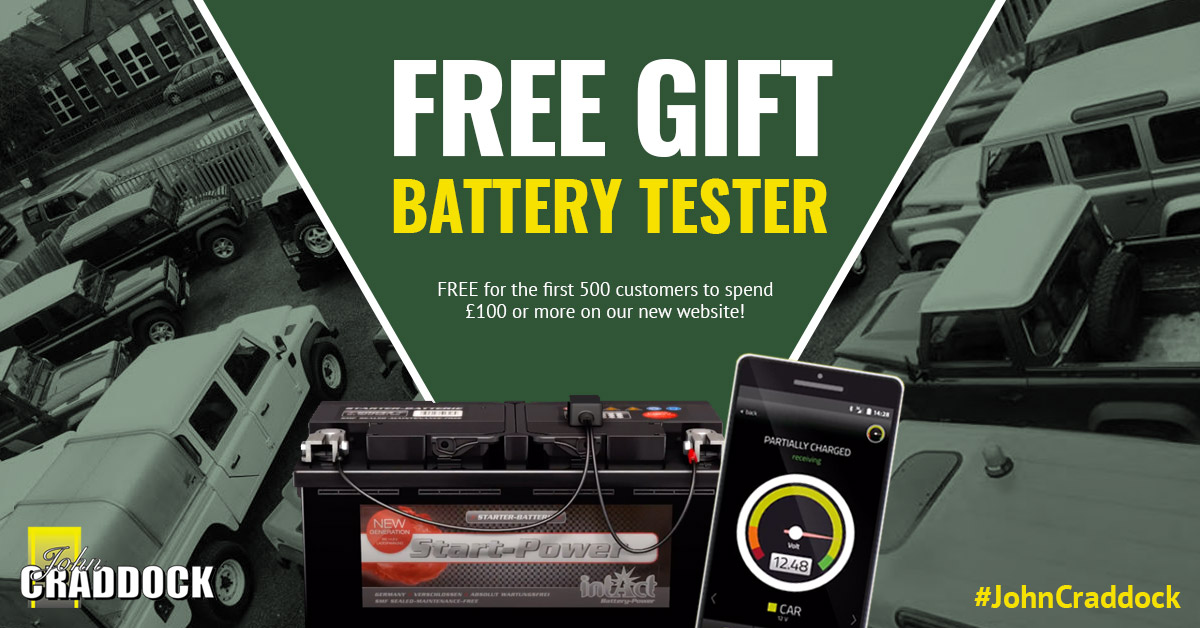 To Celebrate We're Giving Away 500 FREE Battery Guards
To celebrate the launch of our new site, we're giving 500 lucky Land Rover owners a FREE intAct battery guard worth £33.89 inc. VAT when they spend £100 or more online! Orders can include Land Rover parts, spares and accessories for any vehicle model to qualify and worldwide shipping is available.
With the intAct Battery Guard, you can monitor the charging status of your battery quickly and easily from your smartphone. Once you've mounted the battery guard to your terminals, you can  view the current voltage value of your battery through the user-friendly app which is free to download on Apple and Android devices. If your voltage drops below the set minimum, the need to recharge the battery will be indicated, helping you to avoid your battery running flat all year round!
You can find out more about about the Battery Guard online here.
Our Journey
Having supplied Land Rover owners worldwide with parts, spares and accessories since 1961, this is an exciting moment for everyone here at John Craddock. As many of you may know, our journey started back in 1968 when John Craddock purchased a 1948 Series One Land Rover for just £50.00. From that day on, John was smitten by the vehicles simplicity, reliability and ability to cover any terrain. After spending many weekends rallying and visiting Land Rover clubs, John then entered the business world as parts started to become scarce. The rest, as they say, is history.
Driven by a passion for all things Land Rover, we're proud to now be the world's leading supplier of Land Rover parts, spares and accessories. Whether we're supplying parts to restore a classic model or to enhance newer models, we're proud to offer a first class service to fellow Land Rover enthusiasts around the world.
Finally, we'd like to thank you for your support and we hope you like our new look!