John Craddock Ltd Magazine (August 2021)
It's easy to simply dismiss ARB as a brand that 'just' makes Land Rover parts and accessories, one of any number of similar companies. But to do that is to dismiss a brand that has earned its place as one of the premier manufacturers of automobile parts and accessories in the world and one of the best choices if you're looking for high quality off-roading accessories.
Because not only do ARB products make off-roading funner and much, much safer, but they take the entire camping experience to the next level. Even Ford, a company no stranger to off-roading and luxury themselves, collaborated with ARB in 2019 to create the Lone Ranger.
Read below to learn how the ARB range of products could improve your off-road time and take your camping experience to the next level.
Off Roading
To start with, let's talk about ARB's range of winch bumpers. While you certainly can use your vehicle's original bumper with your winch system (depending on the model of winch) every off-roader knows that using a proper winch bumper gives you even more security. As our friends at 4wheeldriveguide.co.uk write, off-roading bumpers (such as ARBs range) 'increase your vehicle's approach and departure angle' while also protecting your lights and engine components in the event of a serious crash — which is never a bad thing!
Because of that, a good off-roading bumper should be the first thing you buy if you're thinking about going off-roading. And thanks to their antenna and light mounts, tow point, and airbag approved configuration, ARB should be the first company you consider. They're just that good.
But protection is not the only reason why an ARB Winch Bumper is a good idea. As I just wrote, ARB winch bumpers feature numerous light mounting points — allowing you to upgrade your Land Rover's lighting system when you upgrade the bumper.
ARB themselves make a high quality range of lights designed to increase visibility during nighttime off-roading — each one at least 800 lumens bright. This means that you don't have to stop off-roading as soon as the sun sets. It also means you can continue driving even in conditions where visibility has been reduced close to zero. With an ARB lighting system, you finally have full control of your driving experience.
Likewise, their high quality range of wheel and tyre accessories will keep your tyres and wheels in great condition — even when you're putting your Land Rover through its paces. Their tyre inflators are high quality and made of solid brass, which means they're very durable and reliable. And their compressors have some of the highest air flow for a 12v air compressor on the market.
Taking Off-Roading to the Next Level
But ARB's range of components aren't just for off-roading. As we wrote at the start of this article, they're also great for taking your camping trip to the next level.
Take a look at their range of awnings and tents, for example.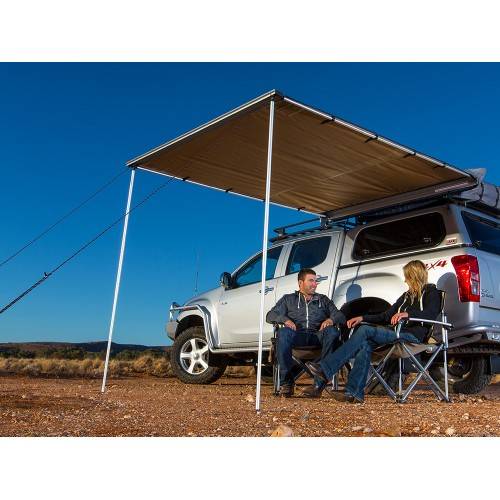 All of ARB's range of tents are waterproof and UV resistant, and they come in a range of options to suit a wide variety of camping needs. Whether you need a simple sheet to block out the harsh sun, a tent with a lighting system, or an elevated tent that keeps you off the floor, ARB has an option for you.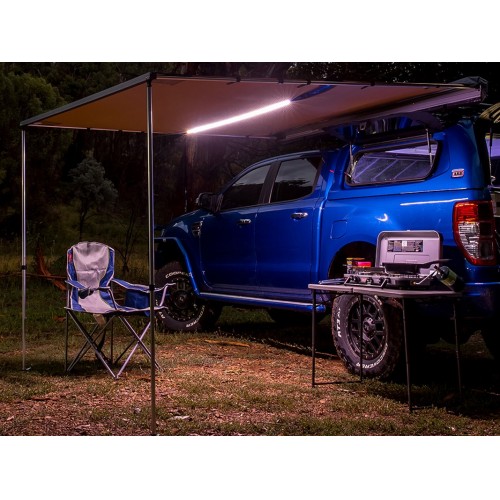 For example, the Simpsons Rooftop Tent is designed to be set up on your Land Rover's roof. It's design means it can unfold within minutes, it comes with a strong aluminium ladder allowing ease of access, and its polyester flysheet means that it's both waterproof and UV resistant — everything you need from a high quality tent.
Meanwhile, their portable range of fridges and freezers are large enough to carry everything you'll need on your camping trip — cold drinks, food, or medicine. This means that you don't have to worry about food going bad while you're out in nature, having to only drink warm drinks, or being away from your medicine. You don't have to sacrifice every creature comfort while going camping anymore.
Visit John Craddock Today To Learn More About the ARB Range
The ARB range isn't something to sleep on. While there are certainly other options, the quality of ARB's products makes them the ideal choice — whether you're just looking to upgrade your off-road driving experience or going camping and want to make it as enjoyable as possible. Because, when it comes down to it, camping isn't about roughing it or drinking only lukewarm drinks. It's about getting out, off the road, and enjoying nature. And that's exactly what the ARB range encourages you to do.
Contact us today to discover how the ARB range can elevate your off-road experience.
August 2021
Summer's almost over and what a summer it's been. In June, Jaguar Land Rover announced that they were working on a hydrogen-powered Land Rover. But before autumn and winter sets in, it's the perfect time to do some off-roading.
Return to Articles